---
Cornish Music Festival Moves to Youtube
Scores of Sound (SOS as we like to refer to it in the Cornish Music Department), is a three-day festival of student work that takes place in the final week of classes each semester. Now in its 19th year, it's dizzying and complicated and messy and wonderful, like good art should be! Anytime you attempt to get more than 70 student musicians performing, you're asking for trouble and yet it's an event that reminds us all why we make the work that we do. 
At the end of the semester, when students and teachers alike can sometimes be weary, the performances in the SOS concerts are inspiring – a moving reminder of our resilient ability to create beauty and meaning.
Tom Varner, Faculty (he's attended more consecutive SOS concerts than anyone)
SOS is meant to showcase as many students as possible, from ensembles to studios to course work. We feature jazz ensembles, staged mini operas, experimental compositions, research projects, and, in recent years, have been taking the music outside of Kerry Hall with performances at Nellie's Cafe, the Cornish Commons, and the Seattle Center. Over the last two years, we've also been in the habit of concluding each SOS with a holiday bash, complete with a faculty cookie baking contest and DJ set from the Chair, and a sound walk in Capitol Hill, part of the UnSilent Night moving soundscape that takes place around the globe each December.
The sheer amount of great work on display from our students in this difficult time is very special. 
I am astounded at the quantity and quality of student work this semester. Not only is this work artistically of some of the highest caliber that I have seen as a faculty member at Cornish so far, but the necessary medium of delivery – video and audio – shows the profound adaptability, resilience, and ultimately, artistry of our students.
Kaley Lane Eaton, Faculty
First-Ever Virtual Scores of Sound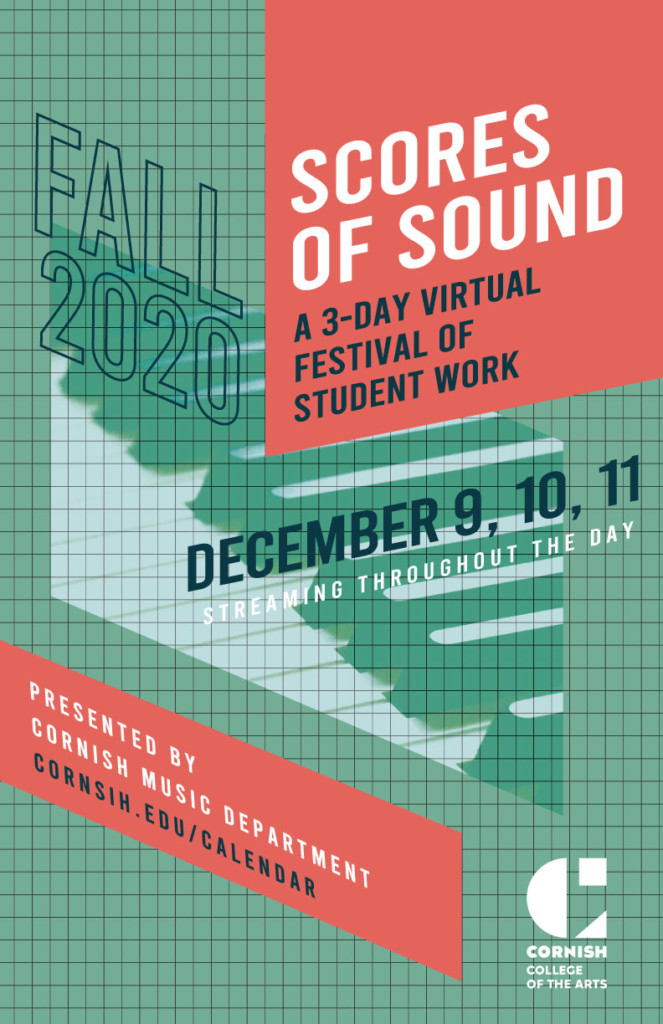 Live-streamed on YouTube, with over 50 student performances Dec. 9-11, Scores of Sound offers the usual display of ensembles, studios, and course work, as well as student showcases: Cornerstone (third year) and Capstone (fourth year) projects since these could not be performed live due to COVID.
---
WEDNESDAY DECEMBER 9
7 p.m.  | Student work from The Art of Music Composition and 
Composing for Voices |
WATCH
8:30 p.m. |
 Student work from ensembles including
 The Healing Voice Ensemble, The Celtic Music Ensemble, Chamber Ensemble, 
and
Jazz and Improvised Music Ensembles |
WATCH
THURSDAY DECEMBER 10
7 pm | Student work from private instruction studios
|
WATCH
FRIDAY DECEMBER 11
7 p.m. | Cornerstone and Capstone Projects
|
WATCH 
– James Falzone, Chair of Music