Whim W'Him Dance Company and Cornish Collaboration
For years, Whim W'Him Dance Company has been a resident professional producing organization at Cornish College of the Arts. Presenting two dance concerts annually at the Cornish Playhouse at Seattle Center, and utilizing the dance studios in the historic Kerry Hall for rehearsals and training over the Summer months, it has been a humbling privilege to continually welcome them back into our creative spaces to collaborate and provide the additional resources needed to produce their acclaimed, contemporary work.
---
Whim W'Him at Cornish
by Andrew Murray, Cornish Rentals Manager
One of Cornish's core values is to contribute "…meaningfully to the cultural vitality of the community." We strongly believe that equitable access to our creative spaces as incubators in which to generate new content contributes directly to the strength and vibrancy of the Seattle arts community, which we are so proud to call ourselves a part of.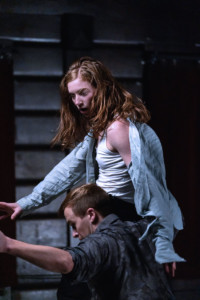 When the COVID-19 pandemic shut down the live performing arts & event industries in March 2020, canceling the upcoming Whim W'Him presentation of XALT at Cornish Playhouse, we were heartbroken at the uncertainty of not knowing when we would be able to welcome them, and our other artistic partners, back safely. To say that the arts are needed now more than ever is an understatement, and the ways that Whim W'Him has pivoted its programing to continue presenting innovative, collaborative contemporary dance with the utmost attention to the health & safety of its company is just one excellent example of the strength and determination of our community. By adopting a rigorous and thorough standard for safe rehearsing and performing practices (including such measures as limiting social engagement and quarantining together in pods, frequent testing, masks, and reduced rehearsal capacity, to name just a few), they have been able to successfully limit risk while abiding by all state and local guidelines to continue generating digitally presented work.
Working closely with Raisbeck Performance Hall Manager Brandon Cullinan, Whim W'Him company and crew safely and efficiently captured the necessary content to produce a digital re-mount of an original piece that premiered at the Playhouse back in 2019: This Is Not The Little Prince. Featuring a kinetic sculpture by Cornish's own Casey Curran, 'Prince' is a reassuring and hopeful example of the resiliency and collaboration required to continue creating at this time. We are so proud of our ongoing artistic partnership with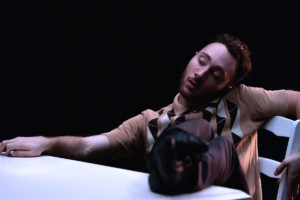 Whim W'Him, and to have had the opportunity to provide them a safe and dedicated space at such an uncertain time in our industry where nothing can be taken for granted. If you would like to support Whim W'Him, tickets to their digital production of This Is Not The Little Prince may be purchased here. Additionally, support for Cornish and its ongoing mission to contribute to the vibrant Seattle Arts community and maintain equitable access to its creative spaces is greatly appreciated. We have been humbled by embracing the change and difficulties brought on by unforeseen challenges over the past year, and greatly look forward to coming out on the other end stronger (and more inspired) than ever!
---
Photo 1: Whim W'Him Dance Company performance featuring Jim Kent | Photo by Stefano Altamura
Photo 2: Whim W'Him Dance Company performance featuring Jane Cracovaner and Karl Watson | Photo by Stefano Altamura
Photo 3: Whim W'Him Dance Company performance featuring Michael Arellano | Photo by Stefano Altamura