TikTok Theater: Q&A with 'As You Like For Like' Director and Writer Holly Vander Hyde
Cornish's student content creator and Theater major, Winter Mallon, spends her time finding stories for the blog that showcase our students, faculty, staff, and alumni. She covers theater productions, music and dance concerts, and other projects in visual and performing arts, as well as #WeAreCornish and alumni features focusing on building a career in the arts. These stories spotlight the student and community work at a truly one-of-a-kind art school in Seattle.
---
Q&A with Director and Writer Holly Vander Hyde
Interview by Winter Mallon (Musical Theater,'22).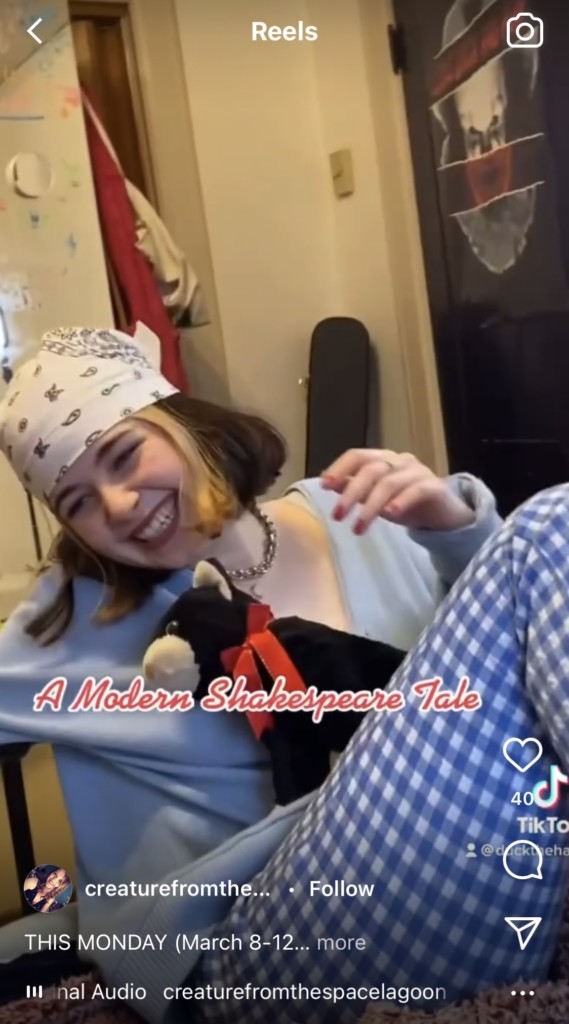 In the spring of 2021, due to COVID-19 restrictions, Cornish was faced with the challenge of presenting their typical theater season in an online format. For fourth-year students, this meant their senior theses had to be completed in a much more "socially distant" manner than years prior. Holly Vander Hyde, a fourth-year Musical Theater major, digitally connected with us to discuss her experience directing and writing her senior thesis, "As You Like For Like."
Q: How did this show challenge you?
A: The biggest challenge for this show was first, the constant negotiation. Writing a work you direct can be a little STRESSFUL, because you as the director don't get a chance to see the gaps that you as a playwright can sometimes make. So, trying to negotiate that with your actors can be a little challenging. Also, the format was a new one for me, so negotiating the overarching plot while, at the same time, trying to give every video something that could make it consumable as a stand alone piece was definitely a challenge.
Q: What was your favorite part of this production?
A: Honestly, I love a chance to collaborate with other artists and this was a chance to fully throw personalities onto an already existing plotline. I had the opportunity to morph and change a whole heck ton, and I loved every second of discovery in it.
Q: How did COVID-19 affect this production?
A: COVID bred this production. The reason I made the project in the format I did was partially because of COVID. As much as COVID has affected the arts in a negative way, it's really presented us with a way to try to combine theatre with film. I will say though, COVID really has affected how I do work, so she really did not take care of her sleeping schedule as much as she would've liked (she being me).
Q: What was it like making a TikTok show?
A: Part of the reason I wanted to make this show was to explore a long-form narrative on a short-form platform. I wanted to make something that was a kind of "choose your own adventure." TikTok was a hard medium to do that on, because people don't usually go further than their for you page. But, I will say, in terms of writing, approaching each segment with the intention of each scene having to pack a wallop is really fun. Honestly, the best part was the freedom to make absolutely ridiculous videos for no reason other than for fun, since most of the narrative was supposed to be going on in the background.
Q: How did you think of making it over TikTok?
A: Actually, I was inspired by two people, first, my friend Sabrina Orro, and second, Mr. Hank Green. Sabrina would talk to me a whole bunch about off the wall formats to tell plays through, and Hank Green mentioned something about Shakespeare told through YouTube or TikToks on his podcast, and I thought that was GENIUS. "As You Like It" seemed to fit the ideal of a TikTok format because some of the choices the characters make seem to be because of the fact there's an audience. They make really showboaty decisions, and I've always thought of Rosalind as a meme queen, so "As You Like It" really seemed to be perfect.
You can find Holly Vander Hyde on Instagram (@creaturefromthespacelagoon) to see more.