Seattle Gallery Owner Greg Kucera Prepares for Retirement, Shares Advice for Today's Artists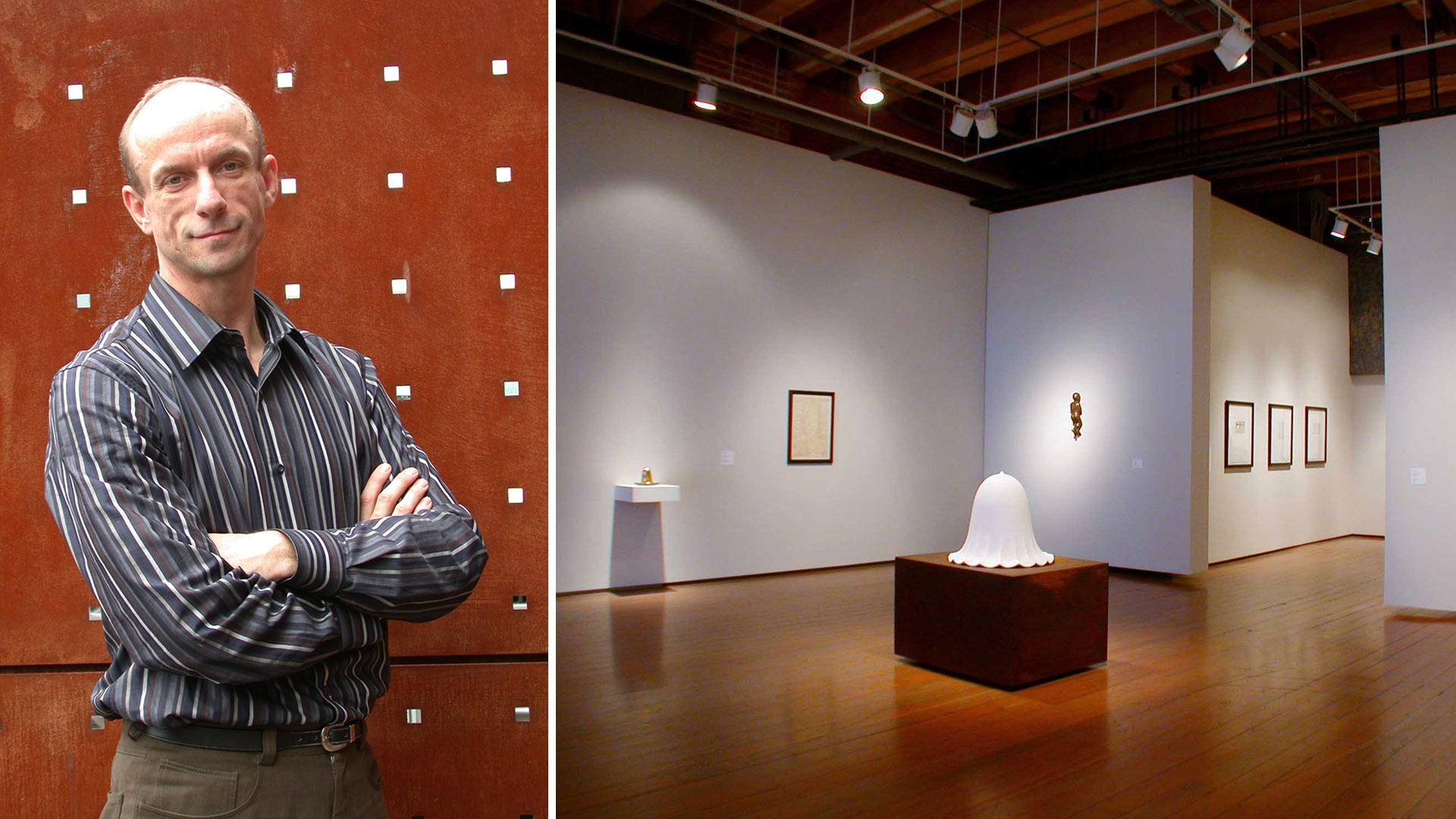 Left: Greg Kucera on the back deck of his gallery in 2007. Right: Mark Calderon installation, 2003.
---
Greg Kucera Prepares for Retirement
In 1983, Greg Kucera opened an art gallery in Seattle's Pioneer Square on Second and James in a very unassuming and derelict space. For the low price of just $350 a month, he had 2,300 square feet to work with.
As Kucera describes, he made a modest introduction to the Seattle art scene—his only mention in the press, a three-line paragraph at the end of an arts column in The Seattle Times. The Seattle art scene was well established at the time, but the city itself was facing an economic downturn, as was the country as a whole. The city was hurting, but for Kucera, it made opening and running a gallery a possibility.
While the cheap space helped him to open a gallery, it was the economic boom that followed which helped him to succeed early on in his career.
"It was the beginning of Reaganomics," Kucera said. "The rich were getting richer and business was booming among private, institutional, and corporate collectors. I just got lucky, right at the end of 1983."
Kucera had taken out a small business loan to open the gallery, using his personal art collection as collateral. He also partnered with an artist for a second loan of $10,000. By his second year of business, Kucera was debt-free and earning a profit.
Though he found success early on, it wasn't without hard work. Kucera spent six, and often seven, days a week at the gallery. The space lacked adequate heating in that first winter, and his days were spent huddled at his desk with a space heater and a black cat he had taken in.
"It took every shred of energy I had," he said. "I'd have weeks in a row that I'd work seven days a week, and I'd be thrilled about it. Every step I took, every effort I threw at something came back to me in commercial success for me and for my artists. They could tell, and they were very generous with me. When you have people expressing gratitude, it makes you want to work harder."
As his business grew, he was able to take on some extra help. Within eight months, he brought on his first employee. He's continued to grow since then, employing between four and five other people to help run the gallery.
In 1998, Kucera moved his gallery to a purchased location in Pioneer Square—the space it currently occupies at Third and Washington.
"My boyfriend Larry saw the space for sale in the paper. I knew I wanted it immediately," Kucera said. "It was a big, open space, completely raw but with an outdoor area overlooking the train tracks and tunnel. I thought of Deborah Butterfield's work and I knew I'd always have something to show of hers if I bought that space."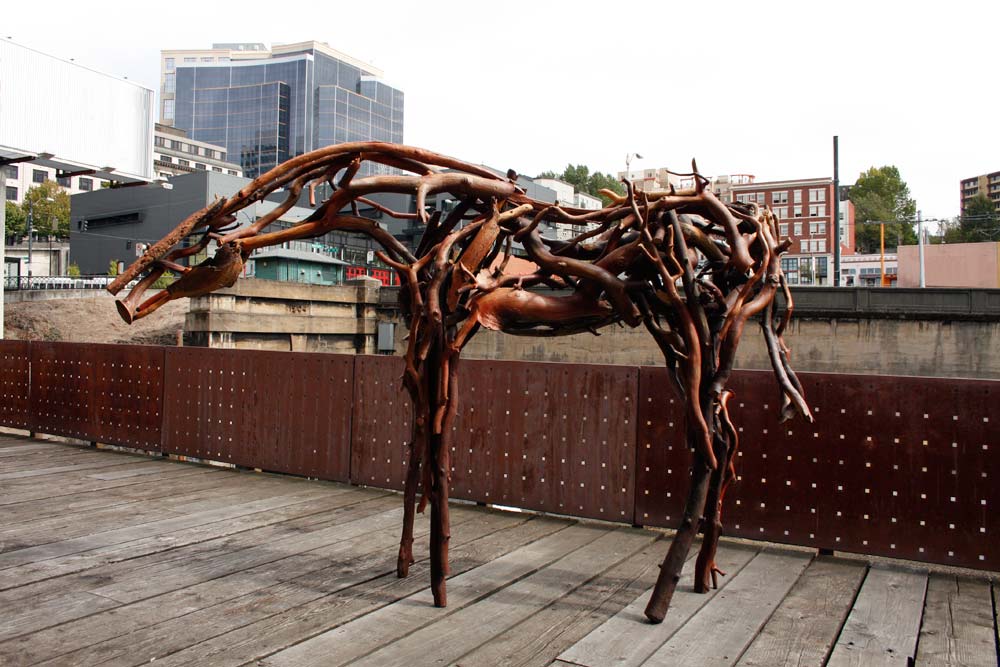 Deborah Butterfield's Madroño on the gallery deck.
The Foster/White Gallery later bought the space next to Kucera, and the two galleries helped anchor this new pocket of Pioneer Square as the gallery area in the Seattle art scene. In 2002, Kucera again expanded when he purchased the space next door—making holes in the brick spine of the building to create openings and combine the two spaces, working again with David DiMarco to design the gracious flow of the space.
In the nearly four decades of owning a gallery, Kucera saw the Seattle art scene continue to grow.
"I think it's much more integrated into the city than it ever has been," he said. "There are galleries all over the city and it's really helped crystallize the art scene. Artists have some sense that they can enjoy living here, but also be part of the national art scene. I think the whole art market has grown up a lot. On the other hand, I think some galleries and artists still can't see the horizon beyond the Northwest. For me, it's important to show my artists in context to other artists more well known than mine, and it benefits us all to be seen on that platform with them."
Kucera said that though physical space is harder and more expensive to come by now, the internet has opened up new opportunities for artists to succeed. He remembers his employee, Jena Scott, who first saw the potential of the internet for his gallery after taking a class at the Seattle Art Museum in conjunction with Microsoft.
"She built our first website, and it was exciting to have that possibility," he said. "It really helped our business to have the first fully functioning gallery website in Seattle."
The internet became especially important for his business during the pandemic, he said, adding that "There are many ways of being in this business. There are places that are completely virtual, though I still find that there are artists who want solo exhibitions in a beautiful, clean physical space and are interested in that interaction with the public."
"Strangely, I don't think the pandemic has hurt my business in the way it has hurt other businesses like restaurants and theaters," Kucera said. "It's hurting some artists whose work is not being seen, but for us, business has been fantastic. Part of that is because we're dealing with a broad range of wealthy people, and others who are spending less, but still investing in the space around them."
After nearly four decades in business, Kucera has decided to retire and sell the gallery to his employees. When asked what advice he has for dealers and galleries starting out today, Kucera said, "You have to learn how to promote yourself and your artists. No matter what aspect of the business you're in. If you're an artist, you can largely hand that job off to a dealer. But since the whole world is interconnected, I don't think an artist can abdicate completely. I think people's access to dealers in the digital era has never been easier to make happen, and for an artist today, having a website is so incredibly important. But, for many artists I know, the chance to show in a gallery is still the height of success. "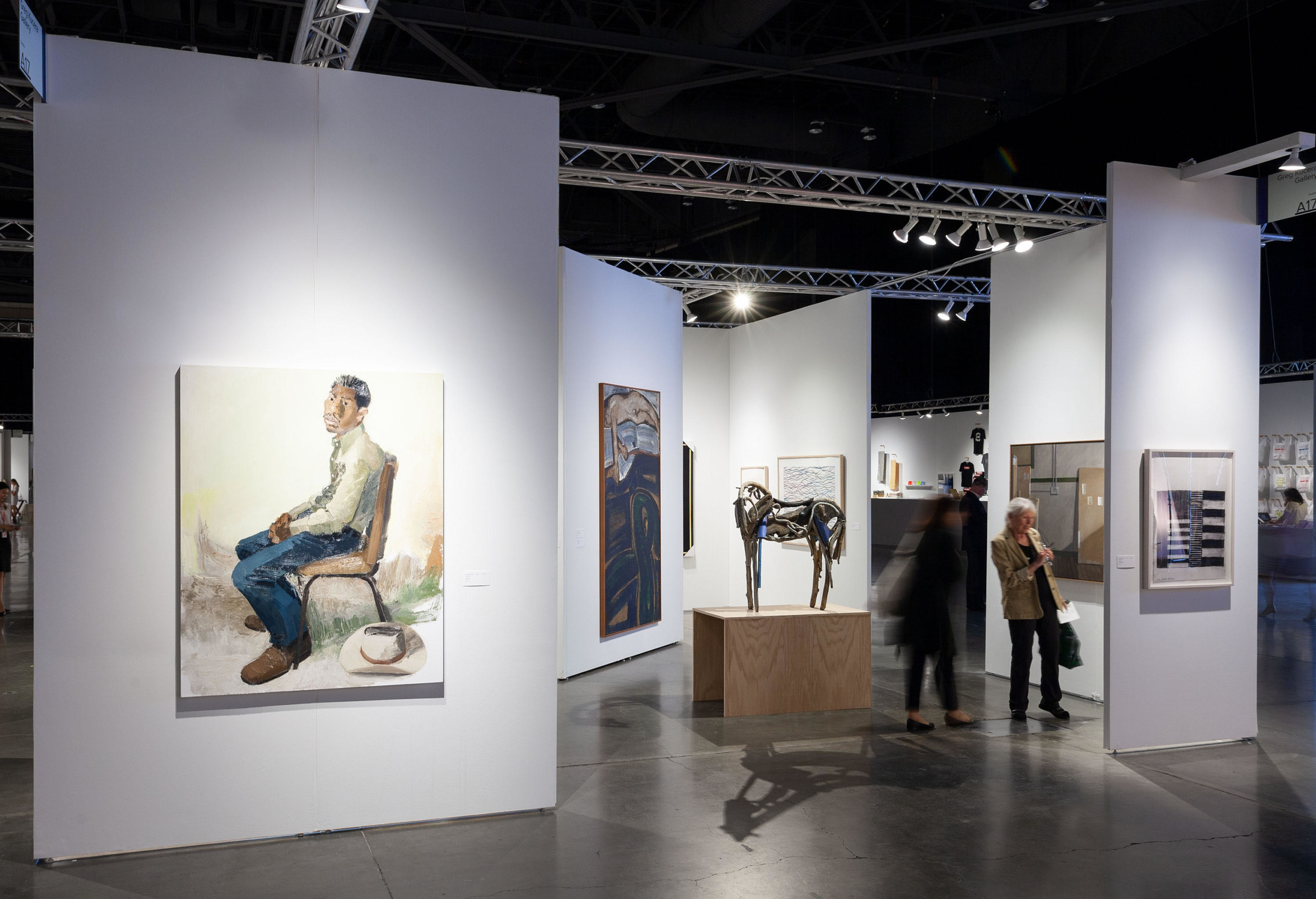 Seattle Art Fair, 2018. (Art, from left: John Sonsini, guy Anderson, Deborah Butterfield, Norman Lundin, Sean Scully).
Though a successful businessman, Kucera hadn't planned to become a gallery owner when he first started school at the University of Washington in 1975. He got a degree in art, graduating with a bachelor's in 1980.
"I thought I would be an artist and an art teacher who simply like the gallery scene," Kucera said.
In the end, it was his sales experience that helped him realize his goal of becoming a gallery owner. After high school, Kucera didn't have enough money to  go straight to college. He worked at Florsheim's, Frederick & Nelson, and later at Frank More selling men's shoes to put himself through school. Kucera credits his time as a shoe salesman as the stepping stone that would lead to selling art.
"When you're selling shoes, or anything small like that, you have the chance to sell 50, maybe a 100 things a day. You learn the rhythm of it, how the customer's reactions feel, what's working and what isn't," he said.
When he wasn't working or in school, Kucera spent his free time going to galleries and interacting with people in the local art scene.
"I so envied what they were doing," he said. "One day I was in the Diane Gilson Gallery and she asked for help hanging a painting—a giant Frank Stella diptych. I hung it for her and then she thanked me and asked if I would come and help her hang an exhibition the next week. My Saturdays were soon spent working for her and the minute I graduated I quit my shoe selling job to work for her full time."
"Once I started working for Diane, I started realizing how exciting it would be to have my own gallery and to have that be my focus every day," Kucera added.
He said that though his career as an artist was short-lived, he didn't regret his decision to open a gallery.
"I gave a talk at the UW art school several years ago. At first, I thought I didn't want to do that, because there's no good news you can give the students. What I realized is that the most valuable thing I learned in school was that I wasn't a very good artist, and I learned that by being around better artists," Kucera said. "But if I could be of service to them, that could be just as or more valuable. My contribution as an artist in this town would've been abysmal. My contribution as a curator and a dealer has benefited this city's artists more."
In retirement, Kucera plans to move to Europe, where a medieval castle in France awaits him. Though his employees, husband, and wife Jim Wilcox and Carol Clifford, are buying the gallery from him, he will continue his involvement from abroad to help them when needed. Just as his namesake gallery will continue to be a part of Seattle's art scene, so too will Kucera himself and his contributions to the city—among them a role in implementing the First Thursday art walks, showcasing burgeoning Seattle artists (including recent Cornish Alumni Anthony White [Art, 2018]), and creating a space for artists in the Northwest to share their artwork with the region and beyond.
Images courtesy of Greg Kucera.
---
Read more about Kucera in The Seattle Times.
View the Greg Kucera Gallery website to see current and past exhibitions.