Paul Taub, Professor Emeritus, Music Department (1979-2018), Passes Away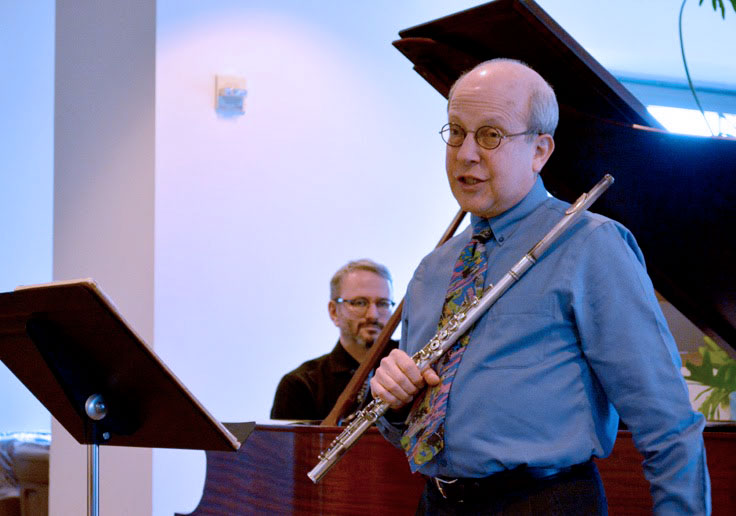 ---
Paul Taub, Professor Emeritus, Music Department (1979-2018), passed suddenly over the weekend. He was an established musician, recording artist, educator, writer, and music administrator. As a professional musician, Paul often played as a soloist and in chamber groups and orchestras nationally and internationally. Paul also authored articles featured in The Flutist Quarterly and The Oxford Encyclopedia of Women in World History.  His administrative acumen shepherded organizations such as the National Flute Association, Chamber Music America, Seattle Chamber Players, Town Hall Seattle, and Seattle's Goodwill Arts Festival.
Throughout his career as a faculty member, Paul taught flute students as well as other classes. He initiated performance opportunities such as engaging professional ensembles for reading and performances of student compositions, coordinating lunchtime concerts throughout the academic year, and serving as coordinator for the classical/new music program for nearly 10 years.
As a faculty leader, Paul's commitment was unparalleled. Among his many notable service examples, Paul served as president of the Cornish Federation of Teachers. His many decades of active participation and leadership in the Cornish Federation of Teachers, he was tirelessly supporting faculty rights, negotiating contracts, and acting as an astute and humane mentor and mediator to faculty and administrators in all kinds of sensitive circumstances. Upon the Faculty Senate and the administration's recommendation, the Board of Trustees designated Paul as professor emeritus in 2019, honoring him for his stellar contributions to the field of music and Cornish.
Perhaps less known to the general community was the immense commitment Paul and his wife Susan made to political activism, traveling around the country for voter registration. "Get Out the Vote" efforts in Virginia, Michigan, and elsewhere during the last four years reflect Paul's democratic vision of the importance of citizens' engagement. For Paul, it was not just political but also artistic, cultural outreach, including his "covid porch concerts " for his lucky neighbors on summer afternoons and evenings.
Cornish College of the Arts extends the deepest sympathy to his wife, Susan, his family, and the countless students, faculty, and staff that Paul touched.