Cornish Music Department Welcomes 4 New Faculty Members
---
The Cornish Music department is pleased to welcome four new faculty members to its community starting in Fall 2021. These artists and teachers join a world-renowned faculty in training musicians through Cornish's distinct curriculum, which focuses on creativity and collaboration.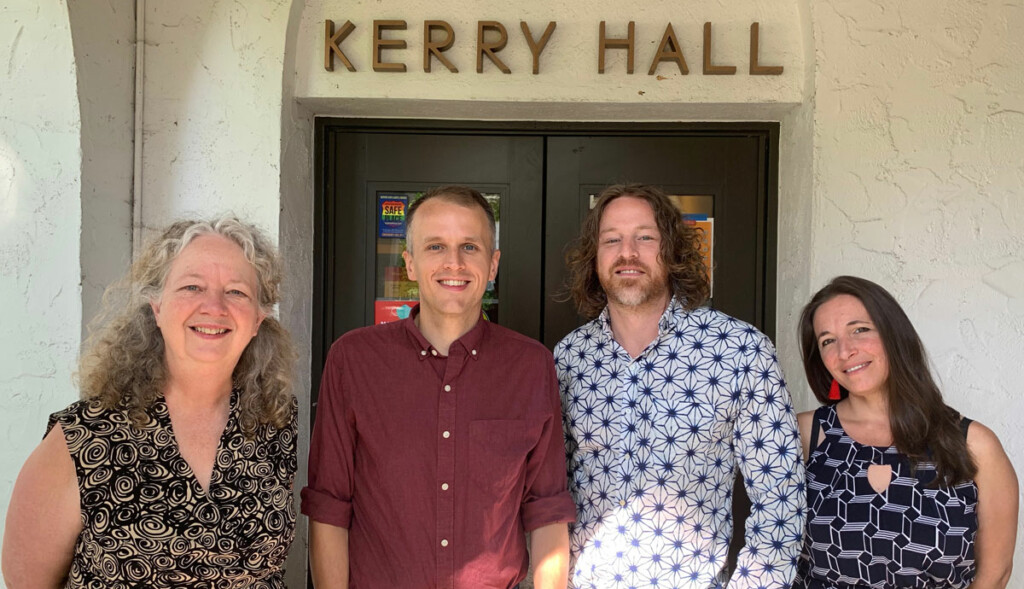 ---
RUTHIE DORNFELD joins the faculty teaching fiddle. Fluent in a wide range of traditional styles including Irish, American old-time, Scandinavian, and Eastern European, Ruthie has performed and taught for over 40 years throughout the U.S. and from the Manaus Operahouse in the Brazilian Amazon to the Sibelius Academy in Helsinki, Finland. Ruthie also plays the five-string medieval fiddle (vielle), and her compositions for that instrument are featured in the recording "Lay of the Waves," for which she received grants from Artist Trust and the Jack Straw Foundation.
Check out Ruthie playing a few tunes with her long-time collaborator Morten Alfred Høirup:
"Ruthie is a remarkable musician and a remarkable communicator about music through her teaching. She also brings to our program a new focus on folk traditions from Europe and America, which our students are very interested in."
– James Falzone, chair, Music department
---
NEIL WELCH joins the faculty on saxophone. His recorded works span jazz, modern composition, Soundpainting, solo acoustic saxophone, electronic sound processing, as well as indie rock and other current musical forms. He is a specialist in the practice of multi-phonic acoustic chord playing, mouthpiece-removed wind sound, and microtonal melody. Neil is also a co-founder and former artistic curator for the acclaimed Seattle experimental music series the Racer Sessions and a former organizer for the avant-garde event organization and record label Table and Chairs Music. An impassioned educator, Neil is the co-director of the Seattle Saxophone Institute, a summer music camp for middle and high school students interested in a sound-immersive educational curriculum.
Watch Neil teaching about the multiphonics found in John Coltrane's classic Harmonique:
"He is one of the finest saxophonists I have ever heard and a tireless promoter of exploration and creativity."
– Music faculty, Tom Varner on Neil
---
JESSE MYERS joins the faculty teaching piano in classical and new music. In addition to traditional classical repertoire, Jesse frequently performs music for prepared piano and new music for piano and electronics. His recent work with the prepared piano and electroacoustic music has led to tours across the country including artist residencies and solo guest performances at universities, conservatories, and music festivals. Locally, his solo concerts have been featured through King FM, Seattle Magazine, City Arts Magazine, and Second Inversion, while frequently appearing in The Stranger's curated best concerts.
Hear/watch Jesse perform Dr. Eaton's recent composition "Free" for piano and live electronics:
"Jesse brings power and thoughtfulness to his artistry and teaching: I can't think of a better pianist to join our faculty and mentor our maverick students."
– Music faculty (and frequently collaborator with Jesse), Dr. Kaley Eaton
MARINA ALBERO joins the faculty teaching piano with a focus in jazz, improvisation, and contemporary styles. Originally from Barcelona, Spain, Marina started playing music as a child with her family as they toured around the world performing Iberian traditional and early music. With studies at the Barcelona Conservatory and in Havana, Cuba, Marina is fluent in many styles of music and is also a percussionist and master player of the hammered dulcimer. In 2018 she was awarded the Golden Ear Award for Emergent Artist and in 2019 she was the recipient of two Golden Ear Awards for best instrumentalist and best record of the year.
Hear Marina's beautiful playing and composing at this live video from Seattle's KNKX:
"She plays with passion and a fire that is in alignment with her incredible spirit. She will be a marvelous addition to the Cornish community."
– Cornish Music faculty Johnaye Kendrick on Marina