Cornish Alum and Trustee Sherry Raisbeck Gives $5M to Cornish in Memory of Late Husband James Raisbeck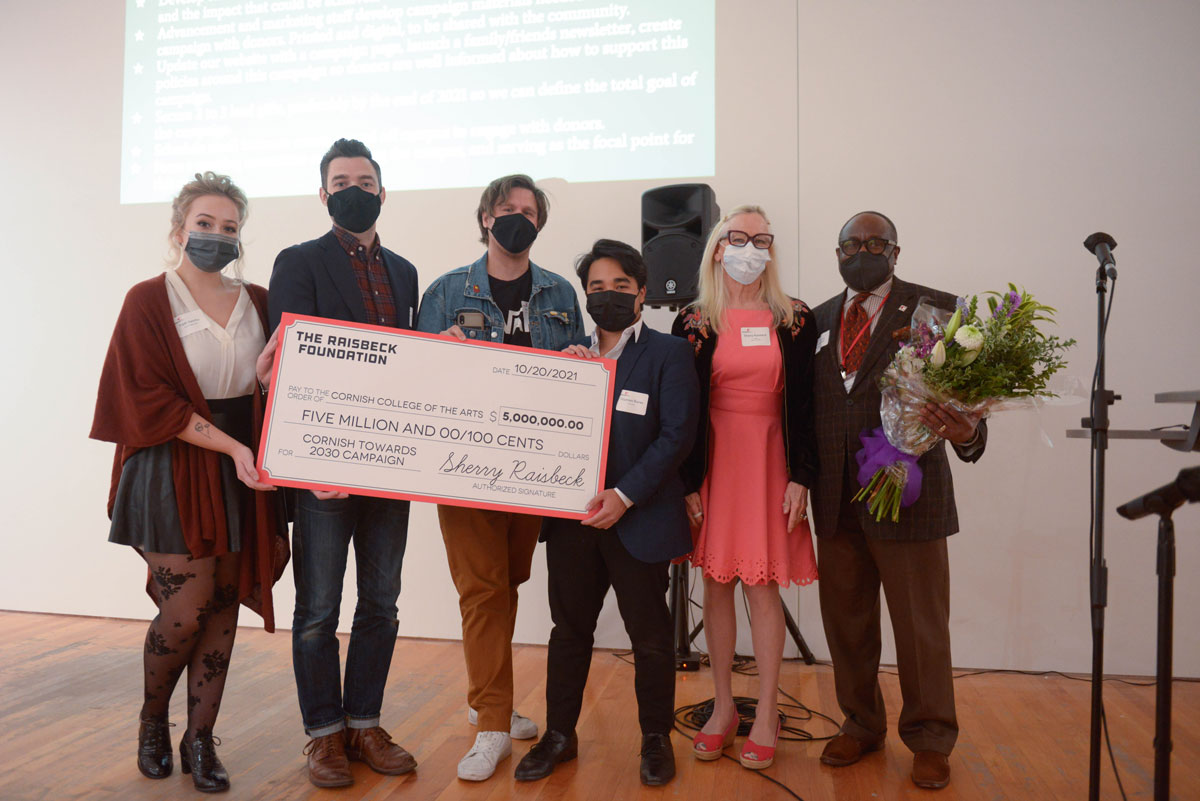 Gift of Five Million Launches Cornish Toward 2030
As Cornish College of the Arts embarks on a new fundraising campaign "Cornish Towards 2030," Art alumna and long-time trustee, Sherry Raisbeck, surprised the community with a gift of $5 million. This gift came from a desire to honor her late husband, James Raisbeck, who passed away on Aug. 31, 2021.
From Sherry Raisbeck: "Years ago, as Cornish was experiencing financial challenges, James, without saying anything to anyone, wrote a check for $1 million and surprised everyone. In the same spirit and in honor of him, I am thrilled to spearhead this transformative campaign with this gift."
Cornish Vice President of Advancement Anne Derieux, who developed this campaign alongside Sherry Raisbeck as Development Committee chair, remarks that this represents the largest single gift in Cornish's long history.
"The Raisbecks' philanthropic impact in the community for the last 30 years continues to live with this transformative gift to the College," states Derieux, who has known the Raisbecks since she arrived in Seattle over 25 years ago.
Cornish announced last month the postponement of their Fall Scholarship Gala to focus on a 15-month comprehensive fundraising campaign, Cornish Towards 2030, that will pave the way to a bright future for the 107-year-old institution. Details about this campaign are forthcoming, but Derieux is grateful for such a positive start.
When receiving this gift from Sherry during a soft launch of the Campaign on campus, President Raymond Tymas-Jones noted: "Although this gift is about Cornish's future, it resonates with the pioneering spirit of Nellie Cornish, who started a school for arts education over 100 years ago. This gift comes from someone who was educated at Cornish, and as a trustee, continues to help steer our community into the future. We are forever grateful to Sherry and James for their unwavering support, and for Sherry's dedication to her alma mater.
---
For information about the gift or details about Cornish Advancement plans for future development, please contact Anne Derieux, VP, Institutional Advancement (advancement@cornish.edu).
Read more in the Puget Sound Business Journal, "Cornish lands largest-ever donation as it kicks off fundraising campaign."