Q&A: Professor Cable Griffith on Solo Exhibition 'We followed the trail until we disappeared'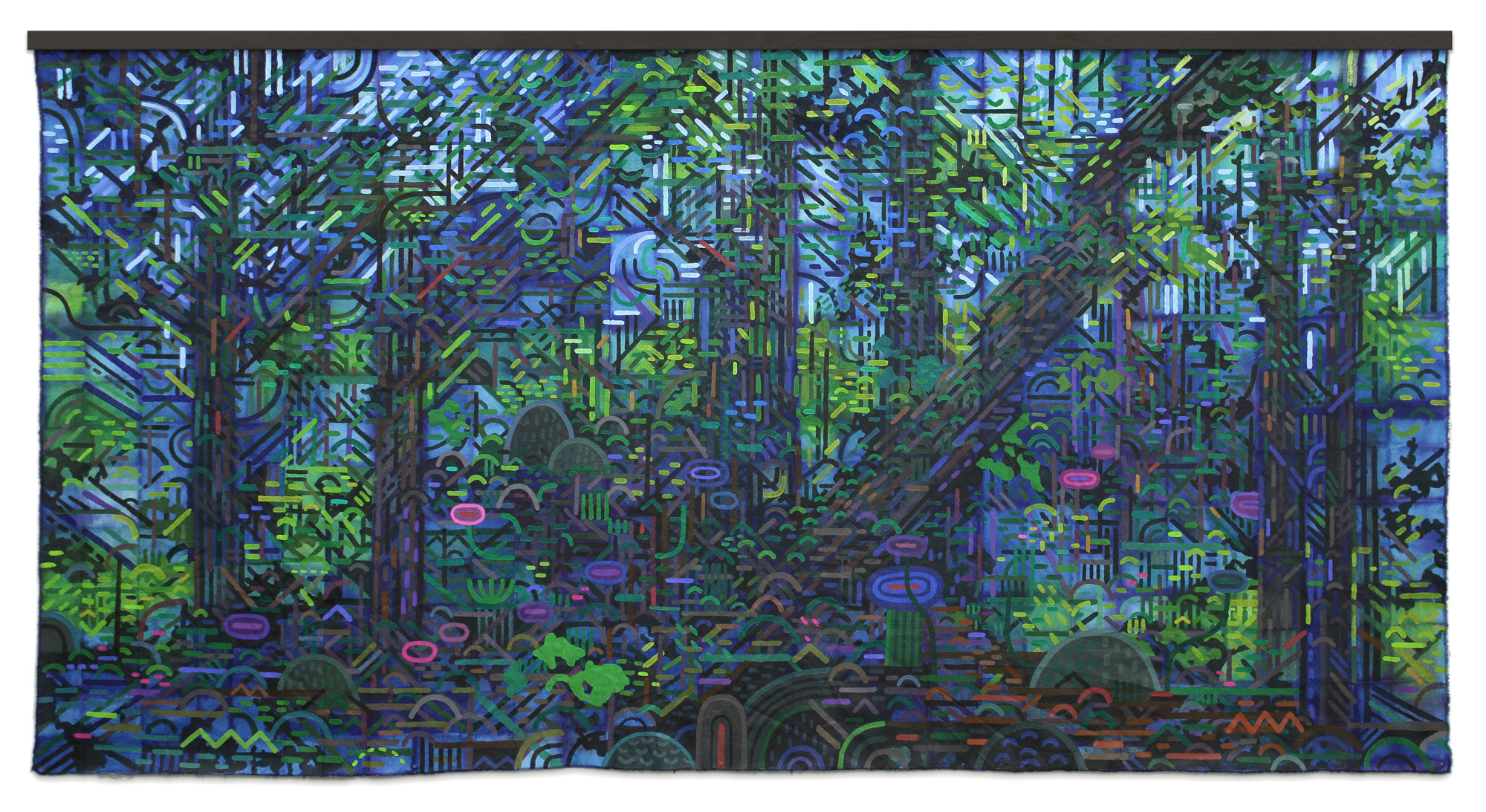 Professor Cable Griffith is currently being featured at the Linda Hodges Gallery for his solo exhibition "We followed the trail until we disappeared." In this third solo exhibition at the gallery, Cable's latest body of work blends nature in fantastical landscapes that reflect dreamlike sequences and iconography often found in video games.
In Cable's latest body of work, he paints ". . . lush, verdant worlds. Weaving together futurist scenes and recollected memories to create wondrous landscapes . . . [he] provides ample exploration of these stories beyond time." —Sharon Arnold, from her essay in "That which lies beyond what is known," published for the exhibition by Linda Hodges Gallery.
The exhibit is open now through Oct. 29. Visit the gallery website to learn more. In the Q&A below, Cable talks about the exhibit and other works. 
Q: Where are you from? How does that affect your work (and your choice in landscapes in particular)?
A: I grew up in the suburbs of NYC. Although I played in the woods there as a kid, the scale of wilderness was nothing like here in the Pacific Northwest. I've lived in the Seattle area for the past 22 years, and the landscape of this region has significantly influenced my work. But even when I was a young kid in NY, I loved the sense of discovery and adventure I felt roaming around the woods behind my family's home. And now, embarking on a new painting can give a similar sense of exhilaration.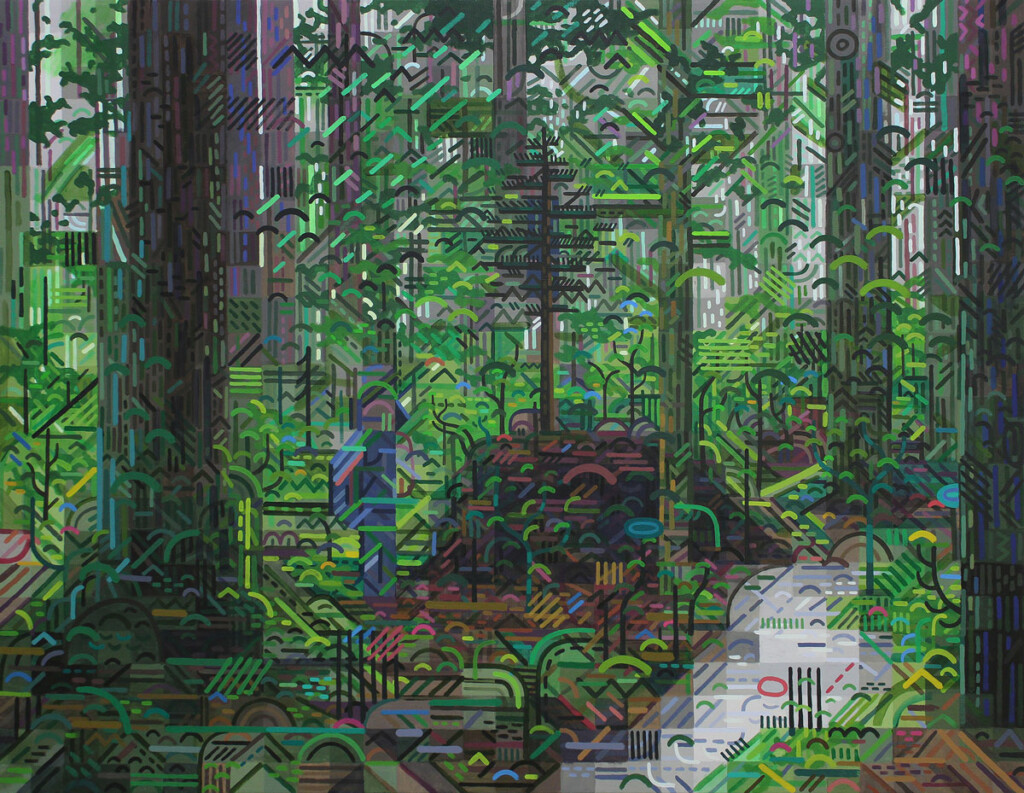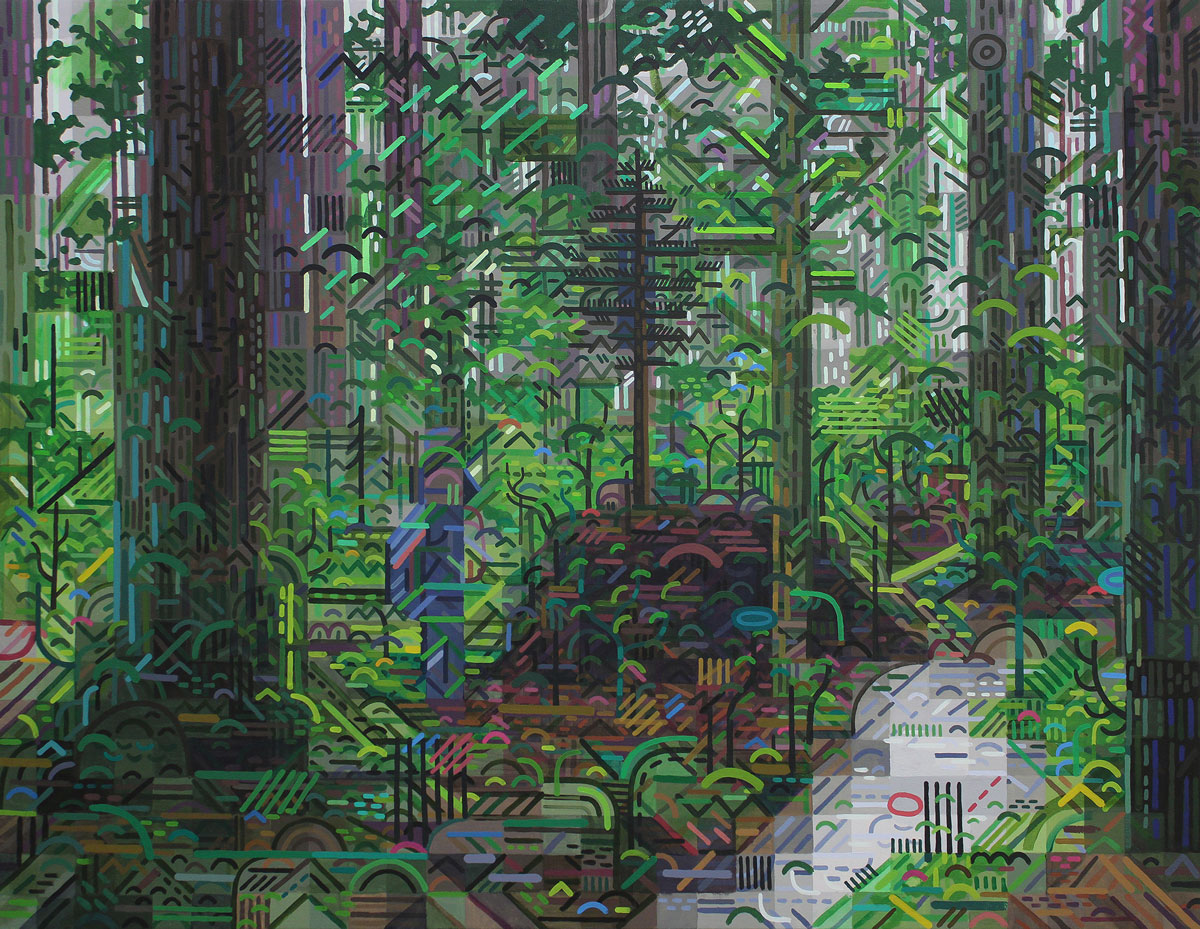 Q: How did you come to be interested in landscapes? When did you first begin working on landscapes through the lens of technology and popular culture? 
A: I think I've always been captivated by how a painting can function as a window or portal to some other place. The act of painting became an opportunity to create or suggest a new place. That pursuit of exploration and discovery is still a powerful driving force behind my work. I grew up during the 1980's and was captivated by early video games. Especially ones where you could explore some seemingly vast world. The stylistic simplicity of those early games and the depictions of landscape space have been very influential to how I interpret the world around me, visually. It wasn't so much a conscious decision as it was an inevitability that the media I "consumed" would find its way into and through my work. 
Q: Who are your biggest artistic and cultural influences?
A: It feels impossible for me to narrow the field of influences down to one or two in terms of significance. But I do think there are some characteristics or sensibilities that I am continually attracted to, regardless of whether they are captured by a painter, sculptor, musician, writer, or filmmaker. I am inspired by artists who can establish a balance between the freedom and unpredictability of improvisation, with a holistic sensibility of structure and strategy. And the artists I love tend to have found their own unique ways to balance between these poles. And exploring this territory is one of the driving forces behind what I do. 
Q: Tell me a bit about your current exhibition, "We followed the trail until we disappeared." What inspired this collection of works? 
A: These paintings were all created in the past two years and reflect some amount of the isolation my family endured throughout the pandemic. The landscapes are largely based on images gathered from hikes and trips with my family. And the materials and process of making them is consciously "domestic", using canvas as a fabric– folding and dyeing it to reveal unique and irregular grid structures. Some amount of that comes from a desire for structure and predictability (in both life and art), but with an acknowledgment of imperfection and room for improvisation and joy. Many of the paintings are presented like tapestries or quilts. And some of the work includes direct collaborations with my son. Having a studio in my home has definitely affected the direction of this work.
Q: How has your work evolved over time, culminating in the style of your latest exhibition? 
A: It is only by looking back that I begin to understand the evolution of my work, leading up to this current show. Other than simply describing the visual or formal changes in the work, I'd say the work has become more personal and layered than some of my earlier paintings. There have been some consistencies throughout the work, but I also love experimenting with different materials and techniques, playing with the relationship between images (photography in particular) and painting. This kind of studio "play" has led me through integrating photograms, VR models, fabric dyeing, and projecting as part of the process. This openness to new methods has continued to keep painting fresh and exciting for me.
Q: How do you advise your students in the process of cultivating their own unique style? 
A: I actually tell my students to be careful of latching onto some identifiable "style" in school. It's tricky, because most of the artists they see out in the world often have some recognizable quality in their work that makes it stand out. But I think that whatever we call "style" is really just the way in which an artist solves visual problems, whatever they may be. And that process of problem solving can become streamlined, consistent, or even iconic over time. But there's a huge danger in trying to achieve some kind of style while in school. For one, that pursuit can merely be a chase towards some outcome, ignoring the real question of where it comes from. Latching onto a specific aesthetic for the sake of recognizability can limit what risks a student (or artist) is willing to take. And if a student limits their risk-taking too early, their growth can be greatly impaired. I'm not really into cars, so this might be a weird analogy to make– but I'm more interested in helping students build and tune an amazing creative engine (studio practice), and less interested with how polished the exterior is. Pursuing style on its own can result in a polished and shiny exterior, but with an underdeveloped engine that won't take them very far.
Q: What advice do you have for young artists today looking to land their first solo exhibition? 
A: Get to work! If you want artmaking to be your job, you need to treat it like that now. Get out and see everything. Make yourself useful to your community(s). Meet people, apply to opportunities, and remember that "art karma" is real.