A Look Back at 'Living in the Hyphen:' Cornish Theater Department Chair Richard E.T. White Retires
Richard E.T. White is the longest serving chair of the Cornish Theater Department since it began in 1918. He retired at the end of the '20-'21 school year after 26 years at the department's helm. Learn more about Theater at Cornish here.
---
Cornish Theater Department Chair Richard E.T. White Retires
Looking back on several decades spent in the theater, Richard E.T. White sees his career as a series of mentors that fostered his love of theater and brought him to where he is today.
Born in Trail, British Columbia, Richard was raised in Canada until the age of 10 when his family immigrated to the United States and moved to Spokane, Washington in 1961.
Richard was a very playful person growing up, and his teachers gave him many outlets of expression along the way—from the school newspaper to drama, where he met the first great mentor of his life, teacher MarGwen Martin.
During his first year at the University of Washington, Richard studied astronomy, one of his hobbies. He was also on the debate team and considered a career in speech therapy. In his second year, his focus shifted as he took theater classes and met the second great mentor of his life—Eve Roberts.
"My life was changed because my teacher was Eve Roberts," Richard said. "The year I studied acting with Eve, I saw her play Martha in 'Who's Afraid of Virginia Woolf,' as Regina in 'The Little Foxes,' and I had the experience of a teacher who brought into the class what she was learning in her nightly performances, which is of course what our Cornish students also experience."
Richard plunged himself into Seattle's burgeoning theater scene. He worked at local non-professional theaters, and one of his teachers, Gregory Falls, gave him a job as a script reader for A Contemporary Theatre (ACT). In Richard's second year, Eve recommended him for a teaching job with the Neighborhood Youth Corps—planting the seed for a career in not just theater, but education.
Because this was during the Vietnam War, Richard and his collaborators decided to work with their high school students on an anti-war themed play, Bertolt Brecht's "A Man's a Man."
"We did this amazing production with these high school kids, and I ended up acting in it and co-directing it. It introduced me to Brecht, who is another one of the great guiding lights for me in theater. And it really connected me to the Cornish mission of the artist-citizen-innovator, and the goal to foster community dialogue."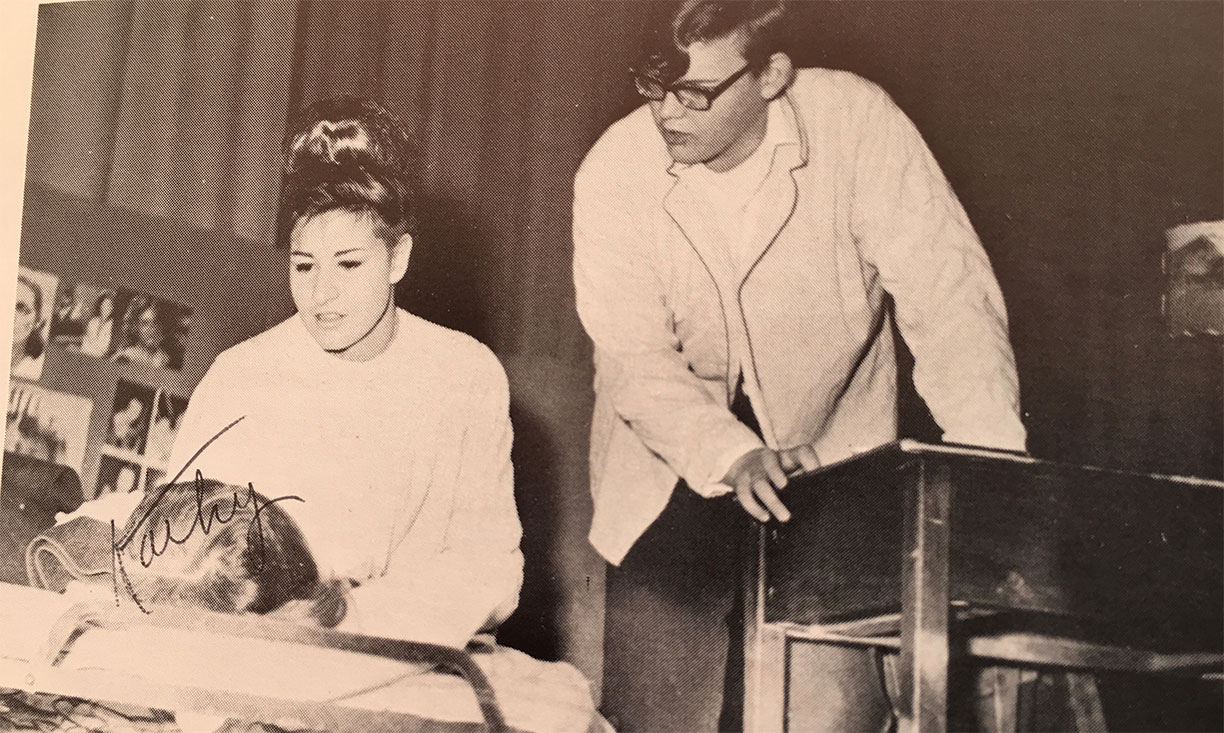 A New Direction
In the following year, again studying under Eve Roberts, Richard charted a new course in theater.
"She [Roberts] called me into her office, sat me down, and said 'My observation is that you don't act, you direct yourself. And you're starting to direct all the people in my class. I think you need to be a director.' I was so self-identified with acting I was upset to hear that," Richard said.
Richard soon realized professor Roberts had been right. He signed up for a directing class, where he met Jack Sydow—the final person who sent him on his path. Sydow, like Roberts, was a professional director who was relatively new to teaching and brought fresh perspectives to the classroom.
"Within two weeks of that class, I knew that I had found myself. It was amazing, learning what it meant to be a director. It was about actually creating a synergy where all the artists in the room collaborate around creating a piece," Richard said. "By the time I left college, I had found my path, I had found my goal."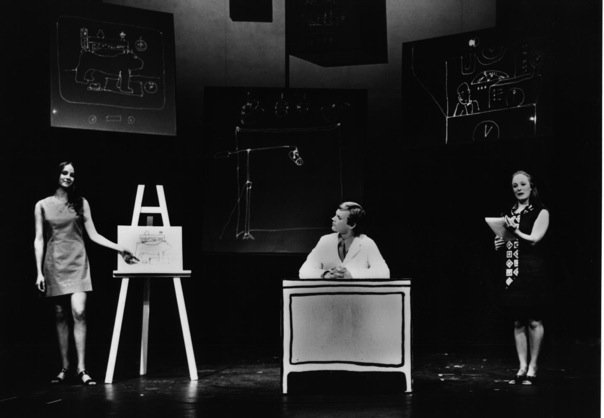 After graduation Richard worked for a year in Pioneer Square at the Skid Row Theater. He managed the lunch theater program, directed three full-length plays and two one-acts, acted and played bass in a pit band, co-wrote a musical based on the Pogo comic strip—and at the end of the year was completely burned out. He took a break from theater and worked as a janitor in a hospital.
"One of the single most important things I've done as an artist, was taking that job and watching humanity happen around me while I sat at the bottom of the hierarchy totem pole," Richard said.
Richard was then offered a job at Intiman Theater in 1974. Back then, the Intiman was a small company in Kirkland before it moved to Kerry Hall in Seattle. Richard stage managed their very first season at Cornish. Twenty years later, he would again find his way back to Cornish when an opening for a new Theater chair became available.
After Seattle, Richard's professor, Jack Sydow, encouraged him to go to graduate school at University of California Berkeley to pursue a doctorate in directing. Richard moved to California and he spent the next three years in the program there directing plays and writing scholarly papers.
"I realized, ultimately, that I was not in the right place because I didn't want to be a scholar," Richard said. "I wanted to be a practitioner."
Richard answered an ad in the local newspaper for an artistic director at a community theater, which turned out to be The Eureka Theatre in San Francisco's Castro District.
"The Eureka was a hotbed for really amazing, interesting artists who wanted to do experimental work. It was a cultural landscape for people in the Bay Area and I was lucky to be the artistic director at that place for three years," he said.
At the end of three years, Richard moved on and started moving his way up in the regional theater scene. Though he had quit attending the UC Berkeley program, he was later invited back to teach.
After meeting while working together at the Berkeley Repertory Theatre, Richard and his wife, Christine Sumption (now a writing teacher in the Cornish Humanities and Sciences Department), began looking for new opportunities in 1991. They found a Tokyo theater company and a university in Yokohama that were together hiring a teaching artist, and they applied together as a team and were accepted. They spent three years there, where Richard taught at Toin and Gakushuin universities and served as the resident director for Theater Company Subaru in Tokyo, where together with his wife, he co-directed Japanese-lanuage productions of "As You Like It" and "Les Belles Soeurs."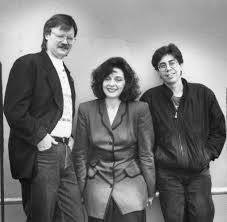 "That was for the best. It was what we needed," Richard said. "We needed a growth spurt. We needed to just jump off a cliff, and the very kind people in Tokyo caught us. We taught conversational English, and then taught acting and directed plays together. We did everything together, in the classroom together, in the rehearsal space together. It was challenging, learning new systems of behavior. Having to learn what theater meant in another country."
About four months before their contract in Tokyo ended, Richard got a call that Cornish was looking for a Theater chair. He flew to Seattle shortly after the Kobe earthquake. Richard interviewed with the president of the college and several other people, but what he remembers most is the experience of sitting in on a class.
"I sat in on a Theater History class and students were reading their papers: the prompt was to write a paper about spirituality in the theater. A second-year student got up and read his paper and it floored me. It was powerful, energetic, poetic, and I just thought 'This is what's happening in the Theater History class? I've got to be here, I have to be with these people.'"
He started with Cornish on May 1, 1995, and spent a month with former Theater Chair Bob Sandburg, who helped him settle into the position.
The Cornish Chapter Begins
Richard said the move to become Cornish's new Theater Department chair felt particularly serendipitous given his early experience at the college stage managing the first Seattle season of the Intiman Theatre in Kerry Hall. As with much of his earlier career, Richard entered into life at Cornish with the freedom to make the position, and the department, his own.
"I spent the first years of my career not ready to get into the big, finished theaters that were immediately going to advance me. I went to the theaters that needed me and helped build them up, and there was a certain kind of joy in that. It was progress and incremental development, as opposed to fame and fortune," Richard said. "It was these experiences that built resilience and confidence. It was always about collaboration, bringing people together, and trying as best as possible to engender a collective good will that will get things done, and that was my approach to being a department chair at Cornish."
The previous department chair let Richard know there were gaps to be filled, and as he took on the position, he began filling those gaps. He was able to bring in some new people, including Sheila Daniels, Timothy Piggee, Kate Myre, Ellie Rose, and Robin Lynn Smith.
"These were superior working artists in Seattle who brought with them fresh ideas and fresh energy. They created strong connections between our department and the local creative ecology," Richard said. "With them, and the accomplished artist-educators who continued with us, we responded to student advocacy and expanded the Original Works program and welcomed students into it from Art, Design, Music, and Performance Production."
They created classes in devising, neo-burlesque and cabaret, podcasting and global movement forms, as well as a class that took students on a London arts tour. They also developed an ongoing internship program that made tangible connections between Theater students and local as well as national theater companies.
Richard hired Eric O'del, an activist and part of Seattle's most impactful LGBTQ+ theater, and Eric took Original Works in a new direction.
"'Original Works is the future,' he said. I told him, 'I think you're right.'" Richard said, "I wanted to generate new work. I wanted to make new things, and in my first decade, we put a lot of energy into building Original Works, and we still are."
They also began expanding the Musical Theater program, and came to see it as its own unique form of art. Over time the Theater department grew into the largest in the college, and last year they initiated two new accredited BFA degrees in Acting/Original Works and Musical Theater.

'Living in the Hyphen'
"The program I inherited back in 1995 is vastly different 26 years later," Richard said. "We founded these programs on the idea of the artist-citizen-innovator, and the idea of the generative performer. Both in Original Works and in Musical Theater, the hyphen is the most important thing. I remember then-student Timothy Smith-Stewart telling me once, 'I'm just living in the hyphen.' Theater is a really embracing art form. Students can live in the hyphen, they don't have to define themselves as simply an actor or writer or musical theater performer."
"As I look back on my time at Cornish, that's the arc of development I'm most proud of. I did my best to fan the wind, to make the waves of the hyphenated artist grow strong, and I'm really proud of the fact that our students, alumni, and faculty have really embraced that."
While working at Cornish, Richard maintained a professional career, directing locally at ACT, Seattle Rep, and Intiman theaters, as well as across the country at the American Conservatory Theatre, Berkeley Repertory Theatre, the Milwaukee Repertory Theatre, and Shakespeare Santa Cruz. He is a member of the Stage Directors and Choreographers Society, and has received 10 Bay Area Theater Critics' Circle Awards and eight Drama-logue Awards for Outstanding Direction. Throughout his career, Richard directed over 100 productions of plays, operas, and short films across the country and internationally.
Richard says if he could leave behind one piece of advice for his students, it's this:
"Understand that it's a journey, and say yes to experience. Allow yourself to be changed by what you experience. That comes directly from my own life, I had these preconceived ideas about what I would do as a student, that shifted. I found the rewards were great."
"The other thing is, our work is tribal. One reason most people get in the theater is to find their tribe. I lived a very peripheral life, but art always gave me a tribe. There's always been people connecting through the making of art, even from the fourth grade onward. I'm still connected to people I worked with in college. So have faith that you will find your tribe, and say yes. Even when something is broken, maybe you'll be the one to fix it."
During his last year at Cornish, the Theater world had more surprises for him still as the department overcame the struggles of a global pandemic. Challenging though it was, Richard said the experience was an important lesson in how to be resilient and adapt to changing circumstances.
"Theater is like the grass in concrete," Richard said. "You can pave it over and pave it over, and it will always grow up, it will always manifest itself. In whatever ways it needs to, as a podcast, or a video series, or a performance in the park."
A Fond Farewell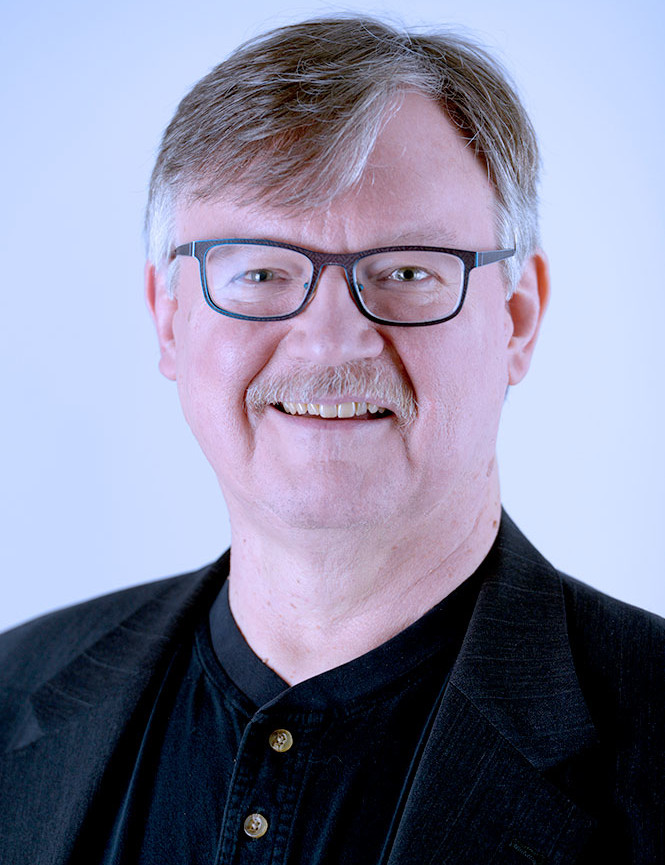 Richard is the longest-serving Theater chair since the department first started in 1918. During his 26 years here at Cornish, Richard saw 818 students work toward and receive BFA degrees from his department. He leaves behind a legacy of students, faculty, and staff who fondly remember what it was like to work and study under him.
Professor Kate Myre remembers Richard, when she first met him 23 years ago, as an imposing figure—tall, opinionated, and "big brained." She said it was his commanding vocabulary and remarkable memory that impressed her the most.
"He's a great leader because he assumes the best in people, he trusts and respects the community he works with, he has vision, and he loves enabling artists to create and share stories. I doubt I will ever find a 'boss' who has such faith in me and who expresses his respect and gratitude for my contributions. He's not effusive. He's not inclined to stroke egos or offer praise freely, but he is a stalwart advocate for his faculty and believes an essential part of his job is to protect and defend the faculty and students."
She adds that Richard has shaped the department in several essential ways, but the most noteworthy is his emphasis on innovation and devising.
"Folks unfamiliar with standard acting training programs around the country might not recognize the unique value we place on devising and generating theater here, making Cornish Theater a place where work is born as well as interpreted."
The department has served as an incubator for successful solo shows, theater companies, new scripts, burlesque performances, drag artists and more, all emerging under Richard's watch. He also encourages the faculty to create innovative curriculum based on their expertise and interests, giving rise to many popular college-wide offerings. Kate adds, "He's not interested in maintaining the status quo, or sitting back on departmental successes."
"In recent years, he has really become a practitioner of mindfulness and this has brought about so much gratitude. He never passes up an opportunity to tell us how grateful he is to work with us and the respect he has for the work that we do. What more could anyone ask for in a leader?"
Professor Timothy McCuen Piggee remembers first meeting Richard in June 1995. Timothy had been a substitute for several classes at Cornish, and Richard invited him for a meeting shortly after he started at Cornish.
"The odd thing is that I don't recall him giving me any indication that our meeting was to be a job interview, but apparently, that's what it was," Timothy said. "By the end of our conversation, he placed a small stack of books in my hand and offered me a full time position. Surprised doesn't begin to describe my feeling walking out of his office that day! We have worked side by side ever since."
Timothy said it's Richard's growth over the years that has made him a great leader for the department.
"Something that has been inspiring to watch is Richard's ever expanding humanity. The man I met in June 1995 is still there, but his ability to listen and his compassion have grown exponentially," he said. "Over the years he has remained conscientious and dedicated, leading the department through both turbulent and joyful times. His expanding humanity and capacity for growth are what have made him such an effective leader."
"During his tenure as Chair, Richard created an atmosphere of collaboration and vision resulting in sound and resilient pedagogy. Thanks to his tireless efforts and remarkable vision, he leaves Cornish with an emboldened Acting/Original Works program and the only accredited Musical Theater BFA program in the Pacific Northwest!"
Richard says he's looking forward to returning to his roots as a generative artist and exploring new ways of telling stories, taking with him everything that he has learned as an educator and administrator. As he says in the quote that serves as an epigram for his Cornish email:
"If stories come to you, care for them. And learn to give them away where they are needed." ~ Barry Lopez