2020: 20/20 Cornish Alumni Gallery Show
The Cornish Art department is proud to present a selection of works from the class of 2020.
---
2020 Art Alumni Gallery Show

These artists faced a set of unprecedented challenges in their final year at Cornish, but demonstrated an adaptability and resilience that was nothing short of remarkable. This collection of their capstone work represents a compelling range of approaches and themes that underscore the role of art as a vital connection to community from both a making and viewing perspective.
For more details about the artists and their work, visit the website built by Art graduates last spring: website exhibition. You can also view a virtual walkthrough of their complete BFA exhibition.
To see the exhibit, visit the Cornish Alumni Gallery on the third floor at 1000 Lenora St. Open spring through summer 2021.
Artists: Colby Bishop, Katie Currier, Michaela Elias, Nate Haskins, Holly Jones, Germain Mitacc, Charlie O, Mo Quick, Squire Simpson, Jae Muñoz, Sanoe Stevenson-Egeland, and Lionel Vance.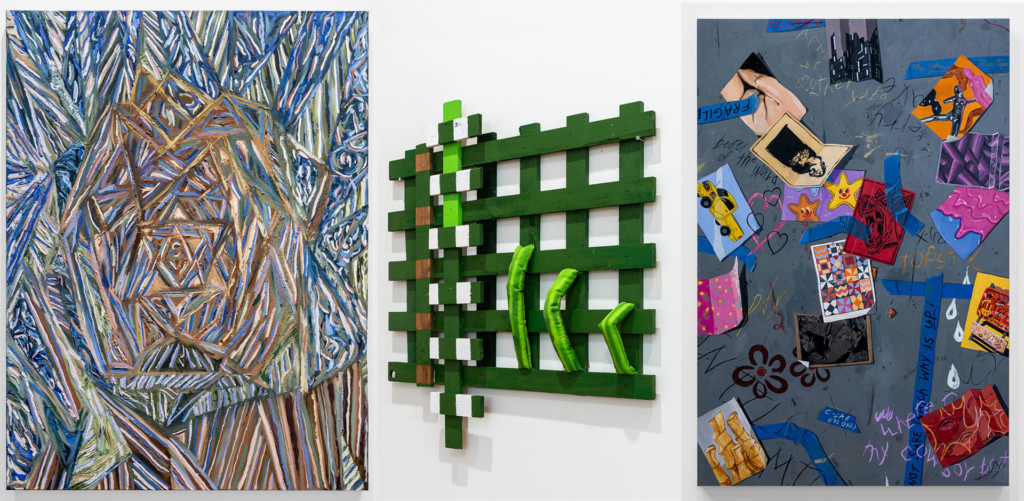 Images:
Katie Currier,"Maintenance Hog," 2020, acrylic paint and fabric on wood fencing.
Germain Mitacc, "Disillusioned Truth," 2018, oil on canvas.
Mo Quick, "Something's Glistenin' in the Sun," 2020, 7 color reductive woodblock on Rives BFK.
Sanoe Stevenson-Egeland, "Pay the Piper," 2020, oil on canvas.
Lionel Vance, "UnderGrad," 2020, acrylic on wood panel.