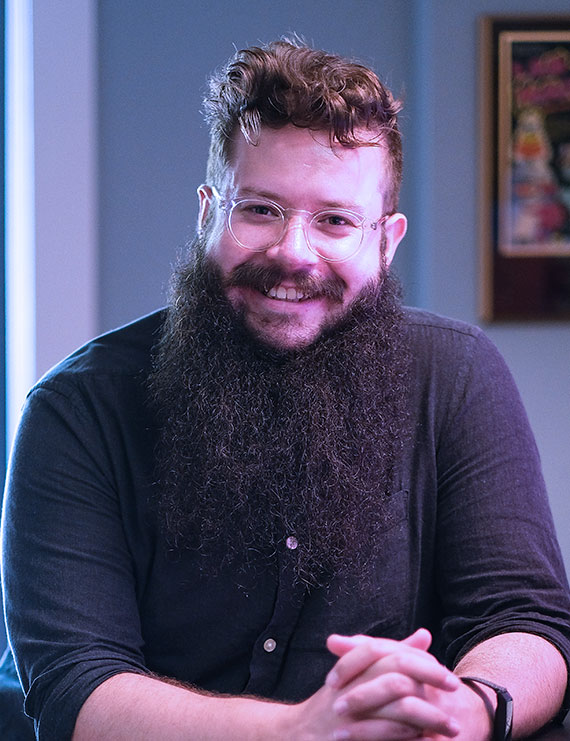 Admission Counselor
Christopher Walker
he/him/his
Christopher Walker is a composer, performer, sound engineer, and music organizer active in spaces for nonprofit performing arts organizations, education, festivals, clubs, and other venues. He is a recent addition to the Seattle scene, having spent the past fifteen years in Texas.
As an Admissions Counselor, Christopher enjoys getting to know Western Washington through the artistic experiences of the Cornish faculty and students – learning its rich depths by way of shared music gigs; taking in a staged performance, and lingering in gallery spaces. Prior to his current position, Christopher served six years as the Administrative Coordinator of Jazz Studies at the University of North Texas.
Through both his professional and scholarly output, Christopher maintains an actionable research agenda focused on deconstructing white supremacist and patriarchal frameworks within cultural institutions. As a bisexual member of the LGBTQ2IA+ community, Christopher emphasizes active education pertaining to the unseen and multi-faceted identities that contribute depth within communities.
From 2007 to the present, Christopher has been active in volunteer and leadership roles across nonprofit and for-profit organizations related to the arts, advocacy, and civics. He currently serves on the Development and DEI Committees of the Jazz Education Network and volunteers locally at the Vera Project.
Musical pursuits have included performing, writing, or producing for Pansy Moon, Pilotdrift,
An Absence of Color, as well as for friends and colleagues. Christopher holds performing and production credits on more than twenty recorded releases. His currently active project is the avant-pop duo Other People's Energy with composer-improviser Skyler Hill.
Since July of 2017, Christopher has run a weekly two-hour radio program called Tonotopicalia on KUZU LP-FM (kuzu.fm) with co-host and fellow composer Louise Fristensky. The broadcast highlights contemporary composition along with new releases of genre-blurring popular music and has garnered an avid international following.
Christopher is a proud member of The Recording Academy (Grammys), American Composers Forum (ACF), Society of Composers, Inc. (SCI), Jazz Education Network (JEN), American Society for Public Administration (ASPA), American Society of Authors, Composers and Publishers (ASCAP), as well as a co-founding member of the Errant New Music Collective. 
Qualifications
MPA
University of North Texas
BM in Music Composition
University of North Texas