Art & Design Pre-College Foundations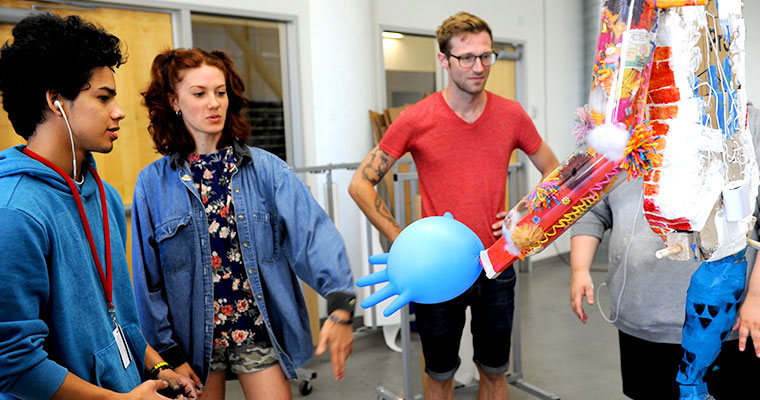 Class Description
Push up your sleeves and flex your art muscles for Foundations and Drawing. Foundations is a rigorous course that combines the vocabulary of the visual arts with the most essential art-making tools.
Foundations will introduce you to art as a profession, as a form of visual thinking, and as a creative process. Using diverse media and technical processes (drawing, painting, sculpture, and installation), you will explore new and uncharted territories to create artwork. Come prepared to experiment and have fun, exploring the infinite processes available to you in the world of art and design.
Foundations is designed to be an exciting creative experience for each student that works in combination with two focused intensive electives. Students who register for the Pre-College Course Package for Art & Design will then need to choose two afternoon elective courses, which rotate Monday/Wednesday and Tuesday/Thursday. Elective courses include topics such as photography, printmaking, sculpture, painting, graphic design, and digital media. Students can choose to delve deeper into an area of interest, explore something new, or both! These intensive electives are in addition to the tuition listed, for more information, please see the links below.
Included in the Foundations program is our Portfolio Development intensive on Fridays of each week. This intensive runs from 9:00 am to 12:00 pm each Friday of the four-week intensive. In Portfolio Development, students will develop the necessary skills to build a personal, thoughtful, and technically proficient portfolio for successful application to leading accredited art schools and portfolio reviews in the professional world to create artistic opportunities for your future.
---
COVID-19 Policy – At this time Cornish  College of the Arts Vaccination Policy states that all students must: (a) establish that they have received the COVID-19 vaccine; (b) obtain an approved exemption. Students will be asked to show proof of vaccination before entering any Cornish buildings.
Back to class safely – While this course is in person, we would like to offer this as a synchronous online option. Please email for any questions.
---
In order to participate in the Art & Design Pre-College Foundations which includes Portfolio Development, you must then register for 2 of the following intensive electives to complete the Pre-College Foundations program.
Monday/Wednesday
Comics Studio
Photography & the Artist Book
Illustration to Animation
Tuesday/Thursday
Life Drawing
Graphic Design
Beginning Object Design
---
Back to class safely – While this course is in person, we would like to offer this as a synchronous online option. Please email for any questions.
---
Apply for the Cornish Extension Programs Scholarship!
Cornish is committed to making our courses available for youth students who demonstrate artistic and academic promise, financial need, and interest in the program by offering modest scholarship assistance. Cornish College reserves the right to change any final scholarship award based on the number of qualified applicants and available funding.
To apply, click here for the Cornish Extension Programs Scholarship Form!
Program Summer At Cornish
Dates/Times
Early Bird prices extended through March 15th! 
July 5th -29th, 9:00 am to 12:00 pm
---
Monday – Thursday, 9:00 am to 12:00 pm will be the Foundations portion of the intensive.
Monday – Thursday, 1:00 to 4:00 pm will alternate your focused intensive selection, Monday/Wednesday or Tuesday/Thursday.
Fridays, 9:00 am to 12:00 pm will be Portfolio Development.
Ages 14-18
Discipline Art & Design
Price $2,175.00; Early Bird $2,050.00
Dress Requirements
There are no dress requirements for this intensive.
Location: ,
Map Unavailable